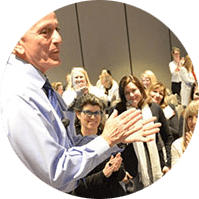 Because how you show up matters
T

hink of executive presence as how we show up in relationship with others. Our practice of developing executive presence can grow if we think about it as layers of experience.
It is how others experience us,

It is how others experience themselves when they are with us, 

It is the story they tell about us when we are gone. 
As we start to develop and expand our presence, we begin to notice the impact that it has on others. When we put our attention to this impact, we learn to expand into the experience of others (empathy). Our growth as a leader and effective communicator arises out of this awareness. 
We build great storytellers
The best storytellers make it look easy. As a listener we are immediately pulled in by the glint in their eyes, the cadence and variety in their voice, and the expression on their face. It's like they are telling the story with their whole body. We are particularly captured by how they make us feel.
Great storytellers are willing to open themselves up and allow us to be in the story with them. We feel what they feel. We see what they see. And, most of all, we gain the realization and insight from the experience that they have had. Their story is our story.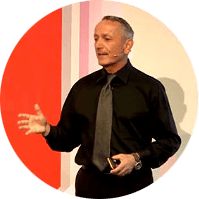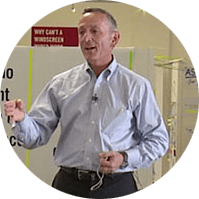 What makes the process work?
We use a range of experiential learning techniques drawn from the fields of theatre, performance, visual, martial and meditative arts. These serve as a foundation for creating customized learning experiences that allow participants to increase self-awareness, build skill and mastery, and make transformational shifts in daily leadership behaviors. Often times it is the subtlest change in someone's physical or vocal presence that makes the biggest difference.
What makes the process fun?
We help leaders become great communicators by first creating a safe and failure-free learning environment. We provide specific and actionable coaching within well-constructed exercises that encourages breakthrough results. And we laugh a lot!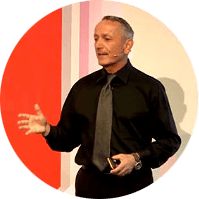 Driven by a passion to coach business leaders to develop their presence, tell compelling stories, and establish authentic connections, Rob Salafia combines two decades of experience as a top leadership development executive with a stellar past career in the performing arts. In his current professional role, he assists leaders in their quests to build sharper levels of emotional and narrative intelligence, transition into higher organizational levels, and share their visions and strategies in compelling and relevant ways.
For the first half of his career Rob was a performing artist where he traveled the globe delivering his unique, one-person variety show. He was first captivated with the art of storytelling in 1977 when he attended The National Association for the Preservation and Perpetuation of Storytelling Conference in Jonesboro, TN. He studied the art of tap dance with Gregory Hines and many other tap dance legends; and in 1989 was awarded a residency with the renowned dancer, Honi Coles. When cast as the lead in a Boston-based musical, Rob was asked by the director to learn wire walking for the show. Always a quick study, he went to task and within 2 months made the art form a part of his repertoire. At the heart of Rob's approach to performance was the relationship he built with his audience. He projected a sense of warmth, confidence and light-heartedness that permeates his work to this day.
As an executive coach, Rob finds great satisfaction in guiding leaders through transitions to more senior roles, as well as coaching senior executives and leadership teams in preparation for strategic presentations.
As a keynote speaker, he enjoys stepping onto the main stage at leadership conferences. Some highlights include CREW Network, J&J, Gallagher, YPO/YPO Gold, Sony Music Entertainment, ING Bank, Wharton Business School, USC's Marshall School of Business, Schulich School of Business and The Association for Training and Development.
Rob is a Lecturer in several MIT Sloan School of Management Executive Education Programs, and an MIT Leadership Center Master Executive Coach. He also cultivated a lasting partnership with Harvard Business School resulting in the integration of experiential programming within the Harvard MBA curriculum and Executive Education Leadership Programs serving thousands of global leaders.
As a learning partner and workshop facilitator, Rob has worked with Fortune 500 companies including, Sapient Consulting, ING Bank, NN Group, News Corp, American Express, Sony Music Entertainment, Thought Ensemble, Metro AG, Philips International, Digitas and Fidelity Investments.
He holds an MS in Organizational Policy from Boston University and a Graduate Certificate in Executive Coaching from William James College.